In the 19th century, the Seminole Indians began using long strips of fabric out of necessity to make their clothing. I'm no expert on the Seminole Indians, and there are many images on Pinterest and Google Images of the patchwork clothing they made. An internet search will bring up lots of inspiration if you are interested.
I was first made aware of this type of patchwork in the early 1980s when Cheryl Greider Bradkin published this book.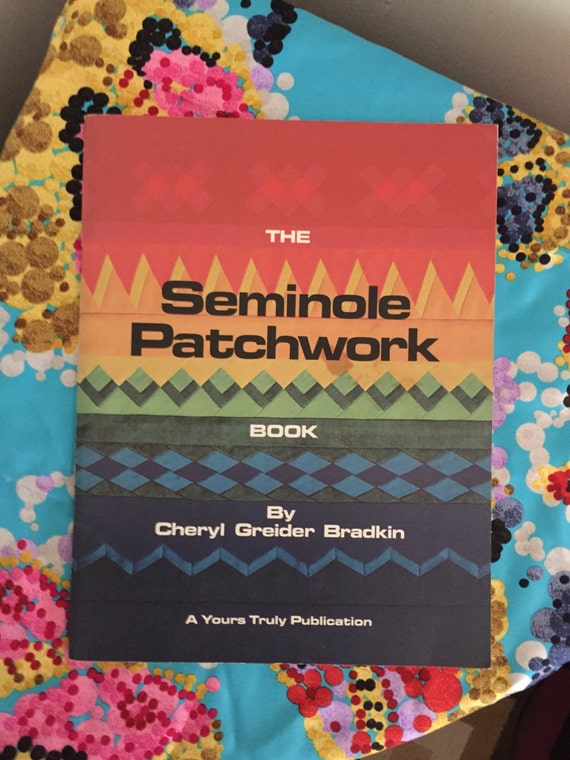 At the time, I didn't even have a rotary cutter, but I tried several of the techniques with my basic tools. After this it seemed that new ideas were exploding in the strip piecing arena.
Oh my, this is scarry!! This is me in 1982 at some quilting event. At the time, you didn't dare show up at a quilt show or symposium without a quilted, stripped-pieced vest. This particular one I did some Seminole patchwork on the back!
Cheryl issued another book, "Basic Seminole Patchwork" in 1996.
And, we all know how in the 2000s we have learned all kinds of speed piecing techniques; many are just like the examples from the Seminoles in the 1800s.
And, now I'm exploring a few of those old Seminole piecing methods again. I'm working on another table runner. It contains several 6" blocks with some Seminole ideas incorporated.
I was working at night, and the light for photos was bad. But check out my 1980s rotary cutter. It is the only one I have ever had, and I use it constantly.
More later on my table runner.
I'm joining the following: